Need some advice and suggestions
05-13-2009, 03:20 PM
Junior Member
Join Date: May 2009
Posts: 10
Likes: 0
Received 0 Likes on 0 Posts
Need some advice and suggestions
---
I recently bought a 1969 Dodge Challenger. I don't know much about it as I am new to cars and car restoration. This is my first. What I'm interested in though is knowing what to do with it. What kind of engine, what kind of peripherals to put on the engine, what are the advantages of doing a "Numbers" car over doing a car the way I want to do it? I am not planning on doing the whole restoration in a year or two because I don't have the money to do that so this project will be an ongoing thing. I'll get parts as I can afford them, one day I'll have a finished car.

Thanks


Oh and why isn't there a section for older 1970 Challengers?
05-13-2009, 09:48 PM
Senior Member
Join Date: Sep 2006
Location: China Grove NC.
Posts: 1,681
Likes: 0
Received 0 Likes on 0 Posts
---
How much information do you have on the car? Have the vin deciphered and then check to see if it is # matching. If it is a specialty car... R/T, TA, SE or Western edition I would go back to stock. Worth more that way. But if its just a lowly 318 or 225 six, then mod away. Go with what ever you wish and make it what you want it to be. You can make it a tribute R/T or go pro touring, pro-street or G-machine. Its up to you and you can go as far as you want or spend carefully and be conservative. There are more parts out for the Challenger than at any other time by the aftermarket. You can get almost any panel now and any suspension you want to run. Stock brakes to 4 wheel discs they have them. Look at E-Bay motors under Challenger and then watch the fun. Let us know how you decide to go and keep us uptodate on the resto. Good luck.
05-14-2009, 01:55 PM
Junior Member
Join Date: May 2009
Posts: 10
Likes: 0
Received 0 Likes on 0 Posts
---
Thank you so much for the reply. Helps me out a lot to know what to do with it. I'll keep you posted.

Oh, to answer your question, I have next to no information.
---
Last edited by geminiviper; 05-14-2009 at

04:14 PM

.
05-14-2009, 05:19 PM
Junior Member
Join Date: May 2009
Posts: 10
Likes: 0
Received 0 Likes on 0 Posts
---
So I found out, so far the car doesn't have an engine. The guy who is helping me with the restore, i.e. doing the work, suggests the 426 Hemi in it. I think that's a great choice. If I understand what you're saying, at this point, not having an engine makes doing a "numbers" car not as necessary. I was thinking of doing a bit of a mix between these two cars. I want the body of the orange car but I want the coloring and height of the red. What do you think? (I'll get to engine specifics when I know more. Since I'm getting the car with new seats/upholstery then I might as well decide on the color and overall style of the body now so my interior matches.)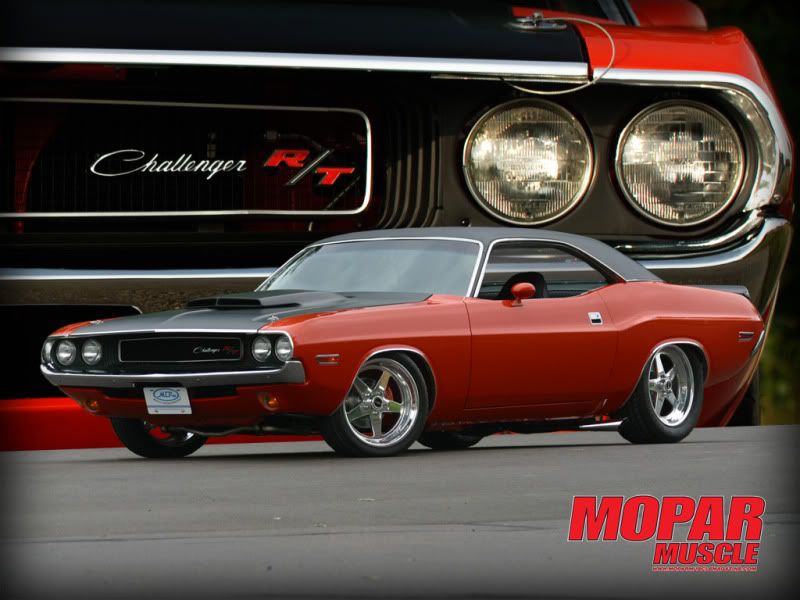 ---
Last edited by geminiviper; 12-05-2009 at

11:28 PM

. Reason: Images moved thus needing an updated link.
05-14-2009, 07:32 PM
Junior Member
Join Date: Feb 2009
Location: Salem OR
Posts: 6
Likes: 0
Received 0 Likes on 0 Posts
---
Hi,well first off they only made the early challengers from 1970 -1974 so thats why there is no info for older models so I don't tink you have a 1969 challenger post the vin number and I or someone else can help you find out what you really have. Also without the engine it can not be a numbers car so do anything you want to make it fun and yours.

later Ray

2009 Challenger SRT8 blk 6sp
1970 cuda 440 550 hp
1973 cuda being restored my me
1973 dart swinger
05-21-2009, 02:30 PM
Junior Member
Join Date: May 2009
Posts: 10
Likes: 0
Received 0 Likes on 0 Posts
---
Makes sense. Thanks. I would post up my VIN but the car is in another state still, waiting to be delivered. I'm also set to deploy next week so I won't get a chance to do anything with my car for at least 6 months. I'll get to it when I get back and post up what's going on with it. Thanks again.
05-26-2009, 10:15 AM
---
Mine is also a 9-69 build date 70 challenger.My suggestion would be to get the vin# and fender tag decoded first and see exactly what you have.If the car is an original 6 cylinder I might suggest keeping it a 6 cylinder car.Most of the 6 cylinder cars were used to swap a V-8 in years ago so finding an unconverted 6 cyl car is "rare".They also run pretty good and will get great gas mileage.I had an original '71 barracuda 6 cylinder years ago and wish I had kept it.They are alot more rare these days than a 'cuda with any other engine except the hemi.
12-06-2009, 12:07 AM
Junior Member
Join Date: May 2009
Posts: 10
Likes: 0
Received 0 Likes on 0 Posts
---
[Note: As I wrote this post it got longer and longer with question after question, sorry.]
The build I'm not sure on. When I was first told about the car the guy told me a '69 Challenger. So maybe it's a 69 build. Don't know. I get home from Iraq in a few weeks and am planning a trip out to Tennessee to see my car for the first time. Probably bring it home while I'm at it.
I would have more info on it but the seller doesn't have an email address and I'm in Iraq at the moment. Being in Iraq and having some time to think about what I want to do. I've subscribed to HotRod and Car Craft magazines and have been reading everything I can get my hands on about old mopars and such. I've kind of come with a theme of car I want to do. Have you seen the She Devil? That's a beautiful car and I would like to do something like that, body and interiorwise. When it comes to the engine, I'm not so sure I want to stay with a smaller 440 or something like that. I'm getting the powerhunger bug that probably comes with a lot of restore projects. It's not that I want to have the fastest car on the block, but I want the fastest car on the block, you know? I read in CarCraft (not sure which issue) about an engine kit you can buy to build on the old 440 block to get a 6.1L engine instead of having to buy a crate engine.
So this is kind of what I'm thinking. I want the older body style with a little hint of modern look to it kind of like the She Devil. Under the hood I think I want to do the 6.1L Hemi. But I'm thinking that if I were to buy a crate engine I would end up taking off the headers and porting them and boring out the heads (is that the same thing?) Replace the cam shaft and piston rods and heads. (I'm trying to talk the talk here work with me) Something along the lines of what they have at at
ShopHemi
. Also there I was thinking pretty hard on puting a supercharger on it. I saw the FAST EZ-EFI system and did some reading on it and thought it would be a good addition. I know that I'll put in a cold air intake and that I'll have to redo the wiring harness and do an eltronics system. I know that I'm going to need to redo (in the case the I don't have wheels maybe do for the first time) the suspension system and axles to handle the horsepower output, I've looked around a bit but I don't know the difference between brands and parts and that so I would be a pretty easy sell on anything I think, unfortunately. So I have a basic yet fluid plan for the engine but on top of what I stated I'm not sure what more it will take to get that accomplished. I know basically I need these areas, engine, electrical, suspension, fuel, breaking, body and interior. But the parts within those categories I'm not sure on.
Since the car has no wheels and engine I'm assuming the body isn't likely in the best condition so I was thinking to start this project I would strip off the body and find out what I've got on the frame, see if I'm going to need to repair it or anything like that. At that point I'm not sure what to do next. Do I work on body or do I start working on the powerplant? My major concern is I may be moving cross country in the next year so I'm thinking the best thing for me to do is get the frame ready and put the suspension system on it and get some wheels on it so at least I can tow the beast when I do move. I'll likely put the existing body back on it for now and start the engine after I do the suspension. I'm worried though if I do the suspension first and I change my plans and the suspension can't handle the new plan. In this case should I stick with a build plan of a massive HP suspension system and if I don't go massive HP then no biggie?
Also I'm not finding anything in magazine reading that tells what exactly goes into engine tuning. Is that anything to do with the tuning of electronic fuel injectors?
Thanks for reading and for the responses.
12-06-2009, 02:23 PM
Member
Join Date: Apr 2008
Posts: 47
Likes: 0
Received 0 Likes on 0 Posts
---
Hey geminiviper, I'm an older guy, i've done a few projects like this, and offer this advice.
Take the path of least resistance, the task is pretty big, lots and I mean lots of guys with great intentions start a big project only to find it is more.. in cost and time than they can manage. A mostly stock 440 4bl 1970 Challenger, is very very cool, a 6.1 has an added level of interest, but will costs lots and lots more in time and money. Plus you'll find less people who can help. Consider taking an easier victory this time around, after a couple under your belt, step it up. You won't likely lose money on a completed stock 70 Challenger 440 4bl project that gets completed, but will lose your a__ on any uncompleted project. Good luck.