Most Expensive 1970 Dodge Challenger Ever Bought
03-23-2010, 12:19 PM
Junior Member
Join Date: Mar 2010
Posts: 2
Likes: 0
Received 0 Likes on 0 Posts
Most Expensive 1970 Dodge Challenger Ever Bought
---
Alright I am looking to find out what was the most expensive price paid on a 1970 Dodge Challenger and if possible who purchased it thanks!
03-23-2010, 02:23 PM
Super Moderator
Join Date: Jan 2006
Posts: 4,503
Likes: 0
Received 0 Likes on 0 Posts
---
1971 Plymouth sells cheap for $2.5 million
Hemi Cuda convertibles are possibly the most valuable true muscle cars around.
By Peter Valdes-Dapena, CNNMoney.com staff writer
January 22 2007: 3:27 PM EST
NEW YORK (CNNMoney.com) -- A 1971 Plymouth muscle car sold at a Phoenix, Ariz. auction Friday for $2.2 million. With a 10 percent sales commission, the total price for the car will be about $2.5 million.
While that may sound like a high price, it was actually a million or two less than would ordinarily be expected for a well-preserved 1971 Hemi 'Cuda convertible.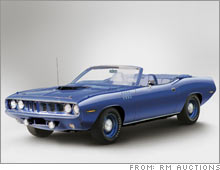 This 1971 Plymouth Hemi 'Cuda convertible sold for $2.2 million at RM Auctions' "Vintage Motor Cars in Arizona" auction.
The car was one of just 11 produced in that model year. The very few that are still left are considered the most valuable of all American muscle cars.
When another '71 Hemi Cuda convertible was offered for sale at an auction in New York City in Sept. 2005, bidding went as high as $4.1 million, but the owner refused to sell the car even at that price.
Big sales from the Arizona auctions
The car sold at the RM Auctions event Friday, however, while well preserved and "perfect" in nearly every way, suffered from one major weakness. It had an engine that was not the original one that had been installed on the assembly line. It was the same exact type of engine. It had even been manufactured at roughly the same time as the original engine. But it was not the same engine.
"Of the 11 from that year it has absolutely unbroken lineage," said McKeel Hagerty, president of Hagerty Insurance, a company that insures collectible cars, "except that's the one problem with it."
Hagerty said he had inspected the car shortly before the auction began and found it to be, otherwise, nearly flawless.
Cars like the 'Cuda, as well as perfectly reconditioned and especially desirable examples of the Pontiac GTO, Chevrolet Camaro, Dodge Challenger and Ford Mustang, routinely get six figure prices at collector car auctions.
A few, like this one, go for seven figure prices.
On Saturday, at the Barrett-Jackson classic car auction in nearby Scottsdale, Ariz. a 1967 Shelby Cobra sports car, powered by a supercharged Ford engine, sold for $5.5 million
Also at the RM Auctions event, bidding on a 1967 Chevrolet Corvette went up to $1.55 million. But that was still below a minimum price set by the seller.
The Hemi 'Cuda convertible, the car that sold Friday at RM Auctions' Phoenix sale, wasn't a limited edition car, though.
It was produced, from start to finish, on the same assembly line as every other Plymouth Barracuda and 'Cuda. (The shortened 'Cuda is a distinct nameplate, not just a slang term. It's a higher-performance version of the standard Barracuda.)
The Hemi 'Cuda convertible was produced in limited numbers simply because very few people wanted them.
First, the Hemi engine option and the convertible option were both costly. Checking off the two options for one car resulted in an automobile that was extremely expensive to buy, fuel and insure.
Besides, getting a convertible top on a Hemi 'Cuda was a little like ordering whipped cream on a sirloin steak.
The high-output Hemi engine was intended for the extreme performance enthusiast. Hemi-powered Dodge and Plymouth cars were "macho" in the extreme. They were for those who simply wanted the most powerful engine around.
The Hemi buyer, then, would not likely be a convertible buyer as well. Especially decades ago, when cars were less well-engineered than today, removing the roof meant that a car's body flexed easily, which was bad for handling. (And handling in these cars was not a strong point to begin with.) It was especially bad in a car with a powerful engine that, all by itself, shook and twisted the car.
In the early '70s, convertibles were at a low ebb in popularity, as part of the normal cycle in consumer tastes.
Thirty years later, all of that adds up to a car with everything it needs to be a hot collectible.
The '71 Hemi Cuda is, first of all, a 'Cuda. Classic muscle cars from Chrysler's Dodge and Plymouth divisions are now among the most sought-after muscle cars in the raging collector market. Their high-haunched, wasp-waisted design is just what people think of when they try to picture a muscle car.
Second, it's a Hemi. Besides their horsepower output, interest in Hemi-powered cars has been stoked by Chrysler's recent re-introduction of the name. Now "Hemi" is to engines what Tiger Woods is to golf. It's the name everyone knows, even if they know nothing else about cars.
(The Hemi engine, in case you didn't know, is named for the domed - or hemispherical - shape of the combustion chamber at the top of each piston. That shape is supposed to maximize efficiency and power.)
Third, the Hemi 'Cuda convertible is a convertible. To collectors, any car is worth more in a convertible body style than as a hard-top.
"If the top goes down," they say "the price goes up."
And finally, for whatever reason, this car just happens to be extremely rare.
Some cars, like Ferraris and Shelbys, are born to be collectibles. For others, like this one, things just fall into place.
__________________
For I know the plans I have for you," declares the LORD, "plans to prosper you and not to harm you, plans to give you hope and a future. Then you will call upon me and come and pray to me, and I will listen to you. You will seek me and find me when you seek me with all your heart.
03-24-2010, 03:50 AM
Senior Member
Join Date: Apr 2009
Location: northeast
Posts: 341
Likes: 0
Received 0 Likes on 0 Posts
Thread
Thread Starter
Forum
Replies
Last Post
General Dodge Challenger Discussions