Standard Dash Clock
12-03-2007, 09:22 AM
Member
Join Date: Sep 2007
Location:
Posts: 75
Likes: 0
Received 0 Likes on 0 Posts
Standard Dash Clock
---
When my dad and I put my Challenger together, I couldn't stand the blank in the right hand hole in my dash, so I set out to get a clock. If that didn't turn out to be a fiasco. I found a clock, but it didn't have a set knob (notice the goofy thing comes out the
bottom
of the dash), and it didn't work. I got a quartz retrofit movement (the one on the right in the pic) and put the thing together without a knob, and just used a jewler's screwdriver to set it. This was all about fifteen years ago. Over the years I tried to find a knob that would work, and finally found a whole gauge pod with a clock -- with the knob. But when I put the knob on, something inside the clock promptly started skipping and I couldn't set it anyway. AARGH. I think my dad is still laughing.
Over the last few weeks, I took time to pull the clock out of the dash and tear it apart to figure out what was wrong. After several fruitless evenings I finally figured out that one of the gears (the one I pointed a green arrow to) was jumping out of mesh when I tried to turn the mechanism. A small spacer fixed it right up. Hopefully this ends the saga of the clock!
Here are a few pics -- Enjoy!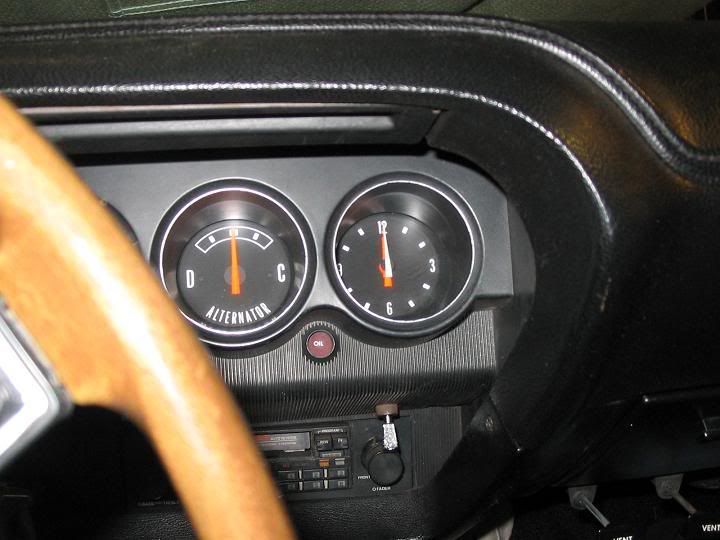 12-07-2007, 06:55 PM
Senior Member
Join Date: Sep 2006
Location:
Posts: 944
Likes: 0
Received 0 Likes on 0 Posts
RE: Standard Dash Clock
---
there are two styles clock. My 1970 has REMOTE WINDER. It's like a speedo cable that comes out the back of the clock, and the knob is not part of the clock. I recently had the clock quartz conversion at Bob' Speedometer here in Michigan (you can find web site) $134.00.

I have the clock you want from a 1971 dash cluster. It has the front winder that comes straight out through the front plastic facing at the bottom of the clock. The face is very dirty, maybe it can be cleaned, but maybe needs to be restored...Bob's can do that.

Free to you if you want to use it..just pay the mailing cost.
Steve Legel
12-08-2007, 02:41 PM
Member
Join Date: Sep 2007
Location:
Posts: 75
Likes: 0
Received 0 Likes on 0 Posts
RE: Standard Dash Clock
---
Thanks for the offer, Steve, but if I get one more piece of anything for this clock, I think my dad will laugh me out of the state!
Seriously, though, mine is finally right, I don't think I need any more pieces. I
would
be interested in seeing pics of yours with the remote winder and the '71 through-the-face if you could post some sometime.
Thread
Thread Starter
Forum
Replies
Last Post
General Dodge Challenger Discussions
General 1970-1974 Dodge Challenger Discussions